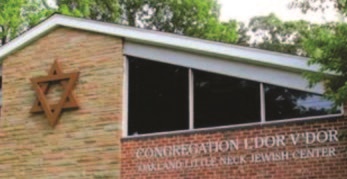 Rabbi Gordon Yaffe
Rabbi Gordon Yaffe began his rabbinic career upon ordination as a Conservative Rabbi from the Jewish Theological Seminary of America in 1990. His first congregation was Temple Beth Shalom in Stratford, Connecticut where he served as both Rabbi and Cantor for 5 years.   In addition to serving as the spiritual leader of Beth Shalom, he also served as a leader in the greater community as the president of the Stratford Clergy Association and the president of the Bridgeport Board of Rabbis. It was during these years that he and his wife Carrie were blessed with two sons, Robert and Neal.
In August of 1995, Rabbi Yaffe and his family relocated to Ocean Township, New Jersey when he became the spiritual leader of Temple Beth El of Oakhurst where he served for 15 years. In August of 2010, he began his current position as the Rabbi at the Little Neck Jewish Center which is now, Congregation L'Dor V'Dor – Oakland Little Neck Jewish Center.   He is the immediate past president of  RANSAQ  (The Rabbinical Assembly of Nassau, Suffolk and Queens) and one of a team of three rabbis who provide Kashrut Supervision at Ben's Kosher Delicatessen in Bayside. 
Throughout the 34 years of his rabbinate, Rabbi Yaffe has been a leader in bringing Christian clergy and members of neighborhood churches and synagogues together for interfaith services in celebration of Thanksgiving, Martin Luther King Weekend and Memorial Day. He is currently working together with the leadership of the St. John's Baptist Church in Westbury, Long Island to build relationships between members of the Black community and the Jewish Community and forming a joint Community Action Committee.  Rabbi Yaffe has also been a leader in bringing Rabbis and members of different synagogues together for community observances of Yom Hashoah and Tisha B'Av.
Since the beginning of the COVID 19 pandemic in March of 2020, Rabbi Yaffe has embraced the technology of Zoom and has been successful in helping to maintain a great sense of community within the synagogue during a time when the synagogue doors were closed and members could not come together.  A daily minyan was created for the first time in the 75 years of the congregation's history and there has not been a single day when a minyan has not been gathered to carve a space for G-d's presence in the life of members of the synagogue family.  With Rabbi Yaffe's leadership, Shabbat and Festival services, regular Learning Opportunities and Special Programs have continued without interruption and the members of the Congregation L'Dor V'Dor-Oakland Little Neck Jewish Center have been able to nurture their spiritual lives and social connections during a very trying time. With the relaxing of COVID 19 restrictions, synagogue life is returning to the way it was with renewed energy and participation.
Rabbi Yaffe's rabbinate is guided by his belief in the relevancy of Jewish tradition as a vibrant force in contemporary life. A primary goal of his is to help to make life cycle events, holiday and Shabbat celebrations, daily prayer and the study of Torah transforming experiences. He welcomes the opportunity to share the beauty and the depth of Jewish tradition in informal dialogues and conversations as well as in formal classes and sermons. 
The Biblical text that guides Rabbi Yaffe each and every day is the message spoken by prophet Micah:
"God has told you what is good and what the Lord requires of you:
Do justice, love kindness and walk humbly with your God."